Wrought Iron Fence Installation & Maintenance in Chapel Hill, North Carolina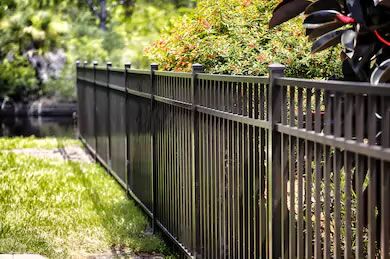 Welcome to Chapel Hill Fence Company, where we provide the highest quality and professional iron fencing services. We are a licensed contractor providing fencing services in Chapel Hill, North Carolina, and its neighborhoods. We are one of the most established, experienced, and reliable iron fence service providers in this town. Our goal is to provide high quality and durable fence installation services to the residents of Chapel Hill at an affordable price. That is why we are offering free quotes for all our iron fence installation services.
Our Iron Fence Installation Services
As one of the most established and experienced iron fencing contractors, we have diversified our fencing services to help address a majority of fencing needs for this town. Our iron fence installation and repair services are available for both homeowners and businesses in this town. So if you want to install a new fence around your home, we are the best contractor you can find in this town. Whether you are looking forward to installing a protective fence or a decorative iron fence, our fence specialists are always ready to handle the next project.
At Chapel Hill Fence Company, we can handle all types of iron fencing projects. Here are some of the iron fencing services that we can handle but not limited to:
Wrought Iron Fence
Wrought iron fence is one of the most popular fences in Chapel Hill NC due to its numerous benefits. It's an iron alloy with very low carbon. Wrought iron is a type of iron-carbon alloy obtained by melting. The reason why it is popular with homeowners and businesspersons is its low maintenance cost in the long run. Unlike PVC and wood, wrought iron is not affected by the high rate of wear and tear hence the high durability features. In addition, this type of iron is timelessly elegant. Its fibrous varieties are some of the popular options. We will help you source the best quality wrought iron at an affordable price.
Decorative Iron Fence Installation
At Chapel Hill Fence Company, we do all kinds of iron fencing services and installations. If you are looking for a decorative iron fence installation, then we are the fencing contractors to go for in this town. We have the latest designs of decorative iron fences for both commercial and residential installation. With this kind of fencing, we will make sure that your exterior aesthetics have been transformed. Call us, and our team will visit the site and offer free quotes.
Other Iron fence Services
At Chapel Hill Fence Company, we are very versatile in our iron fence installation services. Whether you need a customized iron fence, we can handle that for you. For those who would prefer installing other types of iron fencing, we can handle and at an affordable cost. We also ensure that our customers are getting value for money by installing quality and durable fence.
For all iron fencing installation in Chapel Hill NC, call us at 984-369-8481 for free quotes. We can handle all your iron fencing needs in this town. With us, quality, durable, and affordable iron fencing services is a guarantee.